Instrumentación y Auscultación
Geotécnica del Sur designs instrumentation systems and auscultation plans based on the preliminary geotechnical parameters or structural calculations and in accordance with the client's needs. We are both suppliers and installers of instrumentation, plus our team includes personnel with experience in the drafting of auscultation and field action plans, as well as in the monitoring and elaboration of results reports. We can provide simple or complex works instrumentation, dataloggers, software designed specifically for the works, real-time data transfer to centralised servers, etc. As we possess the equipment needed to undertake any type of work and because we collaborate with universities to customise our software and achieve dynamic, instant control, we are therefore able to check the progress of the works at any given moment.
We can provide ground instrumentation and auscultation, and work with bearing walls, unique structures, tunnels, dams, buildings, pathologies, etc. We use the latest generation of measurement equipment: inclinometers, extensometers, vibrating wire piezometers, cross-hole, gauges and bars for measuring the stress and deformation in structures, continuous lines for settlements, etc.
Trabajos realizados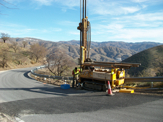 Lorem ipsum dolor sit amet, consectetur adipiscing elit. Integer lacinia commodo neque quis porttitor
Cliente: Lorem Ipsum
Importe: 100000€
Ver PDF