Laboratorio y Control de Calidad
Geotécnica del Sur, S.A. has accumulated extensive experience as a materials quality control laboratory. Our current facilities consist of three permanent laboratories, located in Peligros (Granada), El Puerto de Santa María (Cádiz) and an international base in Panama City (Panama), where we carry out all types of testing corresponding to earthworks, drainage works, tunnels, concrete and metallic structures, road surfaces, signage, buildings, etc. Furthermore, we have four laboratories destined exclusively to large infrastructure projects, located in Caudete (Albacete), Sorbas (Almería), Mancha Real (Jaén) and Casar de Cáceres.
The distribution of our laboratories affords us a broad field of action, standing out as a quality control laboratory for linear works, whether road or rail projects. In recent years, our presence as a quality control laboratory has been notable in several high-speed train lines, collaborating in highly relevant viaduct and tunnel projects, as well as in various road projects, with public administrative bodies such as the Ministry of Infrastructure Development, Public Works Departments, Regional Governments, Councils, etc.
All of our Spanish laboratories are currently certified with the Statutory Declaration demanded by Spanish Law (Real Decreto 410/2010, March 31st), which stipulates the conditions required of building quality control entities and of building quality control test laboratories so that they may exercise their activities. The laboratory in Panama complies with the materials quality control regulations of Panama and is registered in that country.
The Statutory Declaration for our laboratories covers the following areas of testing:
Geotechnical testing (GT)
Road testing (VS)
Service tests (DS)
Structural concrete testing (EH)
Structural steel structures testing (EA)
Manufactured works and masonry works testing (EFA)
Area A: soils, bituminous surfaces and other materials
Area B: conglomerates, aggregates, water, concrete and precast concrete
Area C: metallic products and signage
 Area D: tests for geotechnical surveys
Trabajos realizados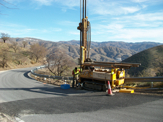 Lorem ipsum dolor sit amet, consectetur adipiscing elit. Integer lacinia commodo neque quis porttitor
Cliente: Lorem Ipsum
Importe: 100000€
Ver PDF