Obras y Cimentaciones Especiales
Piles and micropiles
Geotécnica del Sur, S.A. possesses the maximum classification for contractors in Group K Specials, Subgroup 2 Drilling, injections and piles, category E.
The execution of piles and micropiles forms one of Geotécnica del Sur's main activities within the field of special works and foundations.
The use of micropiles has developed considerably because of the ever increasing complexity of works, whether due to space limitations in urban projects, ground type or the need to preserve existing or historically and culturally important structures.
Geotécnica del Sur boast their own machinery and specialised personnel who are trained for drilling micropiles in all conditions: spaces with reduced headroom, load-bearing walls, forepoling in tunnels, underpinning foundations, etc. whilst working in any type of ground.
We possess our own drilling and injection machinery for executing micropiles of diameters that range from 73 to 300 mm, and piles of between 300 and 1,000 mm.
We have specific equipment for different types of drilling techniques:
Rotary drilling.
Rotary percussion drilling, employing bottom or top hammers.
OD drilling system with simultaneous advance of the auxiliary outer casing tube and the internal drill string of the drill bit itself.
ODEX rotary percussion drilling systems with eccentric hammers and continuous casing.
Geotécnica del Sur, S.A. carries out three types of micropiles depending on the type of injection to be employed.
IGU injection: the injection is realised in just a single phase, filling the space between the drill hole and the protective casing, as well as inside the casing.
IR injection: an IGU injection is firstly performed and then the micropile is reinjected through the casing, which may be equipped with button valves or sleeve valves with a single seal.
IRS injection: realised through the use of sleeve valves with a double seal. This technique means that those sleeves which require more grout can be injected more than twice, based on the volumes of grout already accepted.
To carry out these types of injections, Geotécnica del Sur, S.A. makes use of different kinds of grouting pumps, both electrical and pneumatic, depending on the pressure and flow specifications required.
Trabajos realizados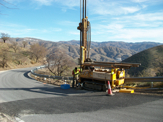 Lorem ipsum dolor sit amet, consectetur adipiscing elit. Integer lacinia commodo neque quis porttitor
Cliente: Lorem Ipsum
Importe: 100000€
Ver PDF